| | | |
| --- | --- | --- |
| | Our Future Home - Steeldust Meadows | |
These are pictures from April 2011. Better late than never. Still lots of snow at the beginning of the month. By the end of the month most of it has melted and we can continue. We strip scaffolding off the inside walls of the basement when we can and start to build a garden just outside the barn.


April 8th, 2011 - Still too much snow to do a lot of work in the basement but we strip scaffolding when we can, mostly from the south east side.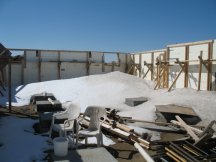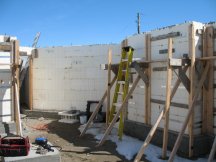 April 27th, 2011 - We start work on a garden just outside the barn door.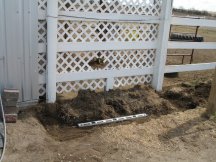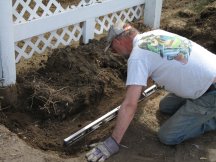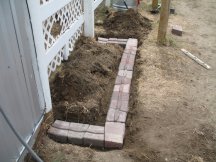 December, 2010 - March, 2011
November, 2010
October, 2010
September, 2010
August, 2010
July, 2010
June, 2010
May, 2010
April, 2010
March, 2010
February, 2010
January, 2010
December, 2009
November, 2009
October, 2009
September, 2009
August, 2009
July, 2009
June, 2009
May, 2009
April, 2009
March, 2009
February, 2009
January, 2009
December, 2008
November, 2008
October, 2008
September, 2008
August, 2008
July, 2008
June, 2008
May, 2008
April, 2008
March, 2008
February, 2008
January, 2008
December, 2007
November, 2007
October, 2007
September, 2007
August, 2007
July, 2007
June, 2007
May, 2007
April, 2007
March, 2007
February, 2007
January, 2007
December, 2006
November, 2006
October, 2006
September, 2006